Keimena gia ton Paylo Sidhropoylo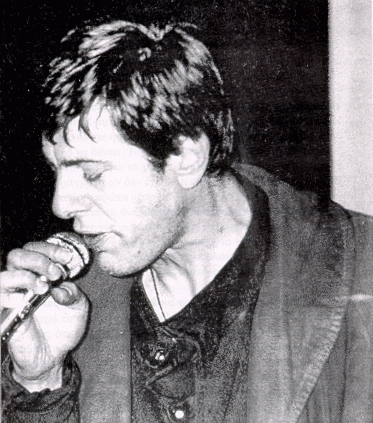 Sthn selida ayth yparxei mia syllogh keimenwn poy grapsane gia ton Paylo h dhlwsewn poy ekanan gia ekeinon, filoi, synergates , moysikoi kai dhmosiografoi toy moysikoy typoy.

Ta keimena ayta antlhthhkan apo to periodiko Ntefi, apo to CD ``Taksideyontas'' toy Pop+Rock (epimeleia ekdoshs Akhs Ladikos) kai apo to biblio ``Monaxiko mployz toy Prigkhpa'' toy Ntinoy Dhmatath.

Eksairesh apotelei to keimeno toy Kwsta Ferrh, to opoio mas to esteile mesw e-mail. Ton eyxaristoyme kai elpizoyme kai se alles tetoies eyxaristes ekplhkseis. Sto gramma ayto, mathainoyme kai gia mia akomh emfanish toy Payloy Sidhropoyloy ws hthopoioy (thleoptikh ayth th fora) thn opoia agnooysame.
Kalyba sthn ammo
1984. Megales zestes, o Paylos htane se mia katastash... oxi kala... ki apofasizoyme na pame diakopes.

Htane mia apo tis periodoys poy htane xamenos mesa sthn asprh.

Yphrxan periodoi - elaxistes mesa sta teleytaia xronia - poy o Paylos gia merikes meres to xrono epefte sthn asprh.

Htane kalokairi kai ksekiname me mia motosykleta, pente atoma, me mia mhxanh, na pame gia diakopes sthn Krhth. Htane h Hdylh, h Thaleia, o Xrhstakhs, o Paylos ki egw.

Katebainoyme Hrakleio. Eginan dyo taksidia me th mhxanh kai enas phge me sygkoinwnia. Phgame kai kataskhnwsame eksw apo thn Palhoxwra, sth Gkoyntoyra. H paralia einai panemorfh, alla den exei katholoy dentra, tipota.

Mazi mas eixame parei ayto poy o Paylos xrhsimopoioyse san ypokatastato arketo kairo, giati o Paylos basanizotan pio poly apo ta farmaka poy poylioyntai ap' ta farmakeia kai oxi toso apo thn preza, toylaxiston ta teleytaia deka xronia poy eimastan arketa konta.

Exoyme omws frontisei apo ta sarantia mpoykalia ntikobiks, na afairesoyme ygro kai na to antikatasthsoyme me antistoixh posothta neroy.

Apo to prwto mpoykali 5%, apo to deytero perissotero kai oytw kath' ekshs, mexri poy se mia bdomada o Paylos eperne to ntikobiks gia na toy fygei h xarmana kai htane sketo nero!

O Paylos den koybalage th mizeria poy koybalane ta prezakia. Htane kyrios, magkas kai me thn preza eixe mia sxesh kathara erwtikh kai paixnidioy. Den epine kathhmerina. Mporw na pw oti h eksarthsh toy htane ta farmaka ki oxi h preza. Ola ayta, ypnostenton, ntikobiks, ntikontint, diafora farmaka.

Htane anthrwpos poy perase poly wraies stigmes sth zwh toy, poy tis biwse. Merikes tis perasame mazi, alles moy tis eixe pei.

Exoyme loipon, katsei se mia paralia opoy baraei o hlios kanthli, o Paylos exei ksefloydisei, den antexei ton hlio meta ap' ayth thn periodo poy 'xe pesei sthn asprh, ypoferei, oi skhnes brazoyne kai yparxei enas mikros braxos, to mono meros poy mporoyses na kathhseis - ap' thn antitheth kathe fora pleyra - gia ligh skia.

Ta egkaymata eixane proxwrhsei kai sta podia kai stis plates kai sth myth, pantoy. Boytage gia ligo sth thalassa kai ksanabgaine, alla den eixe poy na katsei. Htan omws kai xaroymenos... isws htan h agaph gia ena apo ta atoma ths pareas... lampokopoyse... mono poy m' ebrize synexeia, na fygoyme na pame na broyme kana dentro.

Htane apo tis liges fores - opws moy ekmysthreythke argotera - poy enoiwthe ena pono pio dynato ap' ton pono ths prezas ki ayto toy edwse xara kai tharros.

Otan eide kai apoeide, pairnei ena megalo soygia kai phgainei se kati kalamies poy htan ekei konta ki arxizei na kobei kalamia kai na ta stoibazei sthn paralia. Dyo meres synexeia ekobe kalamia. Thn trith mera arxise na ftiaxnei kalyba. Thn teleiwse. Ki ola ayta monos toy, entelws monos toy. Ki exei shmasia atyo giati o xarakthrismos ``Prigkhpas'' den toy dothhke tyxaia. Eixe megalwsei me ntanta, thn Paraskeyoyla kai to mono poy eftiaxne htan enas kafes, oyte thganhto aygo.

Edese ta kalamia me petonia, ta synarmologhse ki eftiakse mia kalyba, kati metaksy Robinswna Kroysoy kai Karagkioz mpernte!

Kathetai apo katw kai gyrnwntas entelws eirwnika se mena, poy molis ebgaina apo th thalassa, moy leei: Kanenas apo sas sth skia. Oloi ston hlio! Apagoreyetai! To 'lege kai to pisteye.

Kai kathotane eytyxismenos. Alla den prolaban na perasoyn dyo lepta, pianei ena meltemi kai rixnei thn kalyba katw!

Den eipe tipota. Phre mia petseta ki efyge - me ena swbrakaki poy forage. Perpathse ta 6 xiliometra mexri thn Palhoxwra ki arakse sta dentra, sto magazi poy trwgame, sto Zormpa to Giwrgo. Mprosta sthn paralia.

(Apo afhghsh toy PANOY HLÉOPOYLOY)
Periodiko NTEFÉ, teyxos 17, Noembrhs - Dekembrhs '91
---
O Baggelhs grafei gia ton Paylo Sidhropoylo
Me ton Paylo Sidhropoylo hmastan filoi kai sygkatoikoi to 1970 sthn Thessalonikh, foithtes sto Mathhmatiko tmhma. Htan enas glykos ``kakomathhmenos'' efhbos. To oneiro toy htan na ginei syggrafeas. Eixe dialeksei kai pseydwnymo: Paylos Asterhs. Ekeinh thn epoxh toy aresan ta drums kai kaname ntoyeto sto spiti. Egw kithara kai aytos tympana se mia paninh polythrona me koytalia kai mpagketes. Paizame xaroymena kai kaname ateleiwth plaka kai ataksies. Thymamai mia bolta me tis kopeles mas, poy eixan elthei apo thn Athhna kai th Rena na leei sth dikia moy: ``Royla moy, aytos o Paylos me tsimpaei sto dromo sa magkas''. Akribws ayto poy tragoydhse ston ``Mpamph to Floy''. ``Tsimpologoyse tis ksanthes''. Argotera sthn Athhna ton eblepa sth xash kai sth feksh.

Ton thymamai sth synaylia toy James Brown sto Pallas na palletai sthn entash kai to rythmo ths mpantas. Allh mia fora sta kamarinia toy Metro na moy leei pws opoy na 'nai ``katharizei''...

O Paylos htan enas biwmatikos typos opws prepei na einai o kallitexnhs mono poy h xhmeia poy dialekse na palepsei mazi ths, den shkwnei asteia kai etsi efyge nwris... afhnontas ta tragoydia toy pisw gia parhgoria.

Ton thymamai panta me agaph.
Baggelhs Germanos
---
O Kwstas Ferrhs grafei gia ton Paylo Sidhropoylo kai thn parea toy `80
Ektos apo tis kinhmatografikes toy emfaniseis, (to "Aldebaran" paixthke sto Festibal Thessalonikhs ki ekane entypwsh), o Paylos emfanisthke sthn thleorash, ws hthopoios, sto shrial poy skhnothethsa gia thn ERT 1, "Oikogeneia Zarnth". S'enan poly wraio rolo...enos opiomanoys gallothremenoy astoy stis arxes toy aiwna (to mythistorhma einai toy megaloy mas alla agnwstoy Kwsta Xatzhargyrh). Se mia skhnh malista toy shrial, epaize kithara gia na tragoydhsei h Swthria Leonardoy to "Summertime", poy ths didakse o Poylikakos! Akoma, th moysikh ths seiras, egrapse o Stayros Logaridhs. Ayta kyriws gia na katafanei o syndesmos poy kratoyse ayth th genia se diarkh epafh, san mia oikogeneia, me ta kala kai ta kaka.

Thn idia epoxh (1980-1983), thn epoxh poy etoimaza to "Rempetiko", to spiti ths Leonardoy sto palio Falhro, eixe ginei dhmioyrgiko steki, ki ekei "pshthhke" to "Zorba the Freak", enw parallhla o Logaridhs me ton Pentzikh dokimazan ta dika toys ethnic, enw o Karbelas (nai, o Nikos Karbelas!!!) poy emene ston panw orofo (pio panw emene o Anastopoylos toy Olympiakoy...) molis eixe ftiaksei to diko toy gkroypaki (TAXI) ki etoimazotan gia solo kariera. Htan tote malista poy erwteythhke thn Bissy, poy taxe me ton Kwsta Fasola, poy htan o Paragwgos toy "Akrita" twn Logaridh-Tasoylh, kai h zwh synexizetai koybari. Akoma, anamesa stoys kolhtoys ekeinhs ths epoxhs, einai h Themis Mpazaka, o Themos Leonardos (prwhn antras ths Swthrias kai nyn syntheths ths), Katerina Gwgoy, Nikolas Asimos, Kwnstantinos Tzoymas, ki an de stamathsw edw tha tinaksw th mnhmh ston aera!!!

Kwstas Ferrhs
ferris@otenet.gr
19/9/1997
---
Paylos Sidhropoylos : Enas filos poy mas leipei
O teleytaios twn Zormpadwn, htan o Zorba ``The Freak''. Kai prin apo mish dekaetia, anebhke sto alogaki toy, forese to kapelaki toy, eipe sthn koinwnia: ``Kampoy, ksekampoy kai soy gamw to soi'', kai meta gyrise pros ta mas kai eipe: ``See you later alligators!!!, ante kai kalh tyxh magkes... egw paw na brw th manoyla moy''. Gi' ayton hmoyn o theios. Etsi opws dialekse toys filoys toy, dialekse kai toys ``syggeneis'' toy, dialekse thn ``oikogeneia '' toy, ta katafere. Kai sigoyra, o idios dialekse kai to teleytaio toy taksidi. O anhpsios, htan enas eleytheros prigkipas, o teleytaios kai eimai perhfanos gi' ayton.

Paylaki moy, oi kairoi eksakoloythoyn na einai dyskoloi gia toys prigkipes.

Se filw, o theios soy o Mhtsos.
Kai gia thn antigrafh
Dhmhtrhs Poylikakos
---
Gia mena alla kai gia ta alla paidia toy gkroyp, o Paylos htan o Filos moy kai o Daskalos moy. Sthn oysia aytos mas ekane moysikoys. Eixe to eksairetiko xarisma na magnhtizei panw sth skhnh to koino kai na ginetai ena m' ayto. Htan agnos, aythentikos kai to keno toy einai terastio alla kai dysanaplhrwto.

Odysseas Galanakhs (Kitharistas stoys Aprosarmostoys)
---
Me ton Paylo zhsame monadikes stigmes kai empeiries. Otan eida pws kapoia stigmh kolloyse to pragma edw, apofasisa na fygw sthn Agglia alla o Paylos den thelhse n' akoloythhsei. Otan ton ksanasynanthsa sta mesa ths dekaetias toy '80, htan ligo apogohteymenos kai moy lege syxna oti ``m' afhsate mono moy...''. Hthele na ksanagrapsoyme mazi kai malista kaname mia emfanish m' ena efhmero sxhma poy t' onomasame Enallaktikh Lysh No. 3, alla gia diaforoys logoys den synexisame. Gia mena o Paylos htan o pio gnhsios kai monadikos ekproswpos toy ellhnikoy rok ston tropo ths ekfrashs kai ths dhmioyrgias toy.

Pantelhs Delhgiannidhs
(Kitharistas kai melos toy ntoyetoy poy ksekinhse
o Sidhropoylos thn kariera toy DAMWN kai FÉNTÉAS)
---
O Paylos htan se ola toy aythormhtos. Ayto poy ekane to zoyse panw sth skhnh. O diskos toy ``Floy'', mazi m' ayton toy Poylikakoy ``Metafores o Mhtsos'', toys thewrw san ta kalytera deigmata toy ellhnikoy rok.

Dhmhtrhs Polytimos
(Moysikos, idryths twn MGC, synergasthke
se diafora almpoym toy Sidhropoyloy)
---
O Paylos eixe ola ta xarismata enos aythentikoy kai dhmioyrgikoy roker. Ton thymamai panta san ena poly kalo filo gemato zwh kai kefi gia diaskedash kai plakes. Kai einai poly krima poy efyge m' ayton ton tropo. H periodos sthn opoia dhmioyrghsame mazi thn Etaireia Kallitexnwn tha moy meinei aksexasth afoy thewrw ton eayto moy tyxero poy smiksame mazi s' ayto to sxhma. Yphrxan synexh ``xapenigk'' toso panw sth skhnh oso kai eksw ap' aythn kai thewrw tote megalh apwleia gia to xwro th dialysh ths mpantas.

Thodwros Papantinas
(Kitharistas, melos ths Etaireias Kallitexnwn)
---
H prwth fora poy hrtha se epafh me thn ennoia ths apwleias enos kontinoy proswpoy htan sta dwdeka moy xronia, otan me phre thlefwno mia synomhlikh moy kopela poy eixa gnwrisei se kapoia paidikh kataskhnwsh to prohgoymeno kalokairi, gia na me plhroforhsei oti enas koinos mas filos, o Kyriakos eixe skotwthei se atyxhma me mhxanaki. H antidrash moy htan kathara ysterikh: arxika thewrhsa oti eprokeito gia kakogoysth farsa kai sth synexeia, mprosta sthn epimonh ths, moyrmoyrisa kati toy stil: ``kala, tha to diastayrwsw'' ki ekleisa to thlefwno afhnontas thn embronthth.

Eikosipente xronia argotera, antedrasa me paromoio tropo otan h Eyh moy thlefwnhse gia na moy anakoinwsei to dysaresto neo: o Paylos pethane. Telika dyskoleyomai na synhthisw aythn thn idea. Oso pio sygkekrimenh prospathei na ginei, toso pio poly thn apwthw sto bathos toy myaloy moy - ki akomh kai shmera eimai prothymos na pistepsw oti kapoy sthn Athhna o Paylos kanei probes, dokimazei kainoyrgia stixakia, ``doyleyei'' mia melwdia kai, aplws, den tyxainei na synanththoyme. Etsi opws exoyme xathei kai me alloys filoys alla poy kai poy mathainoyme nea toys. Dystyxws, mia toso eythraysth fantasiwsh den mporei na anteksei sto sfyrokophma ths ``antikeimenikhs'' pragmatikothtas. Akomh kai oi ``agnwn prothesewn'' anafores kai afierwmata sth mnhmh toy Payloy kai toy ergoy toy epanaferoyn basanistika ayto poy yposyneidhta protimw na ksexnaw: o Paylos den yparxei pleon kai den prokeitai na ksanagrapsei kapoio tragoydi. De tha epektathw edw se anafores gyrw apo to xarakthra kai tis proswpikes stigmes toy Payloy, giati thewrw oti mia tetoia dhmosia ekthesh periexei kapoia pososta adiakrisias, estw kai an prokeitai gia epainoys. Ayto gia to opoio mporw na milhsw einai poly pio sygkekrimeno kai oysiastiko. Afora to rolo poy epaikse o Paylos toso sth synergasia mas oso kai sta eyrytera moysika pragmata. Sxetika me to prwto skelos, to pragma einai aplo. H synergasia mas allakse th zwh moy. Mesa apo thn hxografhsh toy ``Floy'' ekana to alma apo thn efhbia sthn moysikh enhlikiwsh. Ola ayta poy briskontan mesa moy se omixlwdh katastash phran sygkekrimenh morfh kai kateythynsh kai, bebaia h epirroh toy Payloy se olh aythn th diadikasia yphrkse katalytikh. Tha mporoysa na pw xiliades pragmata gyrw apo ayto, alla nomizw oti arkei na shmeiwsw oti apla kai mono na sxoliazeis kitharistika mia fwnh tetoiwn dynatothtwn einai oloklhro sxoleio.

Oson afora twra thn epirroh poy eixe o Paylos panw se ayto poy onomazoyme rock n' roll skhnh, ta pragmata edw einai profanh. Den prokeitai aplws gia kapoia ``kala tragoydia'' alla gia to sympyknwmeno orismo toy ti shmainei rock kai pws mporei na einai KAÉ ellhniko. Anazhtwntas me sxedon mystikistikh prosylwsh to dromo ths proswpikhs toy ekfrashs, anoikse genaiodwra mia porta se kati poy aforoyse kai oloys emas toys ypoloipoys. Apedeikse sthn praksh oti oles aytes oi eteroklhtes epirroes poy oloi eixame mesa mas mporoysan na metoysiwthoyn se sygkekrimeno apotelesma me periexomeno kai aksia. Tha meinei, loipon, kati apo ton Paylo. Oxi mono sthn skepsh aytwn poy ton gnwrisan h aytwn poy sygkinhthhkan apo thn moysikh toy alla kai se kathe nota poy paizoyme, se kathe hlektrikh sygxordia, se kathe bryxhthmo toy mpasoy. Kai kathe fora poy tha mazeyontai oi pitsirikades sta ypogeia ths megaloypolhs kai me tis prwtes notes tha ginetai antilhpth sthn atmosfaira ayth h toso asafhs alla kai toso pragmatikh perirreoysa aisthhsh poy h ksenomania ths genias mas onomaze ``Rock 'n' Roll Feeling'' tote tha einai kai aytos ekei.

Basilhs Spyropoylos
Epsilon, 10/12/95
---
O Paylos einai enas agios ths ellhnikhs rok skhnhs. Efyge prin akoma dei toys sporoys poy eixe fytepsei kai oi opoioi piasan telika. Efyge kynhghmenos, perithwriopoihmenos alla pisteyw oti an yparxei poythena tha xairetai gi' ayto poy symbainei. Giati oti kai na symbainei ksekinhse apo ton Paylo kai apo ton Poylikako. To ``Floy'' htan enas oriakos diskos gia oloys mas.

Giannhs Aggelakas
(Moysikos, Melos stis TRYPES)
---
Dystyxws gia oloys mas, o Paylos den thelhse pote na krathsei ``apostash asfaleias'' metaksy logoy-moysikhs kai proswpikhs zwhs. Taytisthke se bathmo apolyto me to ``oneiro'' twn ntragks kai thn idea toy rok ent rol, me apotelesma h eidhsh toy thanatoy na mhn einai ena sok alla ena moydiasma.

Syxna eyxomai, twra poy gnwrizw thn lysh, na ta 'xe parathsei, na 'xe koyrastei kai spasei, na 'tan thleparoysiasths paixnidiwn h ypeythynos rok repertorioy se mia polyethnikh. Toylaxiston tha 'tan akomh mazi mas. Elpizw na 'nai ston paradeiso giati moy fainetai oti efage th zwh toy sthn kolash.

Thanashs Antwnioy
(Dhmosiografos toy fanzin Skies Toy B-23)
---
O Paylos den mas epetrepse oyte mia fora na pistepsoyme oti mas poylaei ``fykia gia metakswtes kordeles'', oyte epetrepse sthn texnh toy na eksargyrwthei gia triakonta argyria par' oti h anagkh toy ta xreiazotan syxna. Ki otan mporei na diafylassei thn texnh toy apo tis anagkes toy, apo thn kathhmerinothta, apo th fthora toy xronoy, otan mporei na zei opws perigrafei sta epikindyna tragoydia toy, tote aksizei thn timh mas kai thn agaph mas gia panta.

Makhs Mhlatos
(Dhmosiografos)
---
---
Mikro biografiko| Diskografia| index tragoydiwn| stixoi tragoydiwn| Hxoi| Akornta| Partitoyres| Keimena toy Payloy| Keimena gia ton Paylo| Diskokritikes| Biblia| Fwtografies| Anafores| Syndesmoi Ellhnikoy Rock| Diafora| Kentrikh selida

Epimeleia selidas Thlemaxos Mpitsikas, Gwgw Thanasia bitsikas@di.uoa.gr