Visit some picturesque Greek Islands
---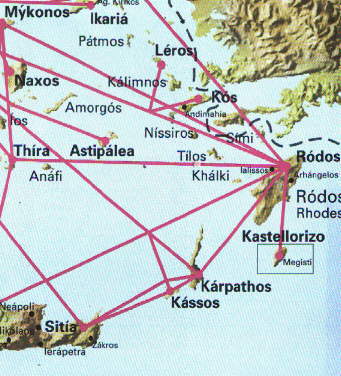 Chart of the dodecanese archipelago with Airline Information
Dodecanese means twelve islands, but twelve are only the largest islands of the Greek archipelago of South-Eastern Aegean Sea. You can visit some of these islands and get surprising information about them, using the following links.
Agathonisi
Arkoi
Astipalia
Kalimnos
Karpathos
Kasos
Kastelorizo (Megisti)
Kos
Lipsi
Leros
Nisiros
Patmos
Rhodes The emerald island.
Simi
Telendos
Tilos The island of pygmy elephants.
Farmakonisi
Khalki
Pserimos
Imia No comment.
---
To email me: george@di.uoa.gr Return to george's Home Page.

Last updated: 5/March/1996