The island of pygmy elephants
---
Tilos is a beautiful island with population 300. Except the sun and the clean , peaceful beaches, there are some unique sights in this piece of land.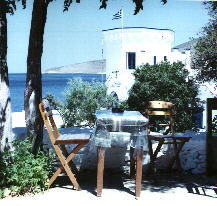 Livadia village view
Recently a rare descovery took place in Tilos. A cave full of skeletal elephants with unusual size have been found. The elephants were smaller than the usual ones. This is unique phenomenon. Some of these skeletons have been assembled and they are exposed at the island. The cave is a place worthly to visit.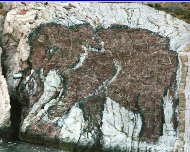 Petrifaction of pygmy elephant.
Return to dodecaneese chart
---
To email me: george@di.uoa.gr Return to george's Home Page.

Last updated: 5/March/1996